comdirect Start-up Garage is my newest baby.  Setting up a brand new FinTech accelerator program in stellar speed together with Mariusz Bodek was a great fun.  With lots of encouragement from the board, Mariusz's endless energy and commitment and a positive response from the FinTech community, we have created a collaborative platform supporting smart and ambitious founders on their way towards the first million and a hockey stick experience.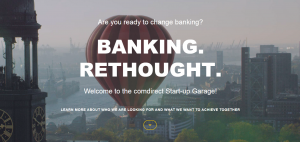 I am very happy about the amount of attention our initiative has raised in the press and the FinTech community and positively surprised by the number and the quality of submitted applications.
We have already invited the first teams, who will join us at the beginning of 2016 in the comdirect Start-up Garage and look forward to welcoming them soon.  We keep our fingers crossed, hoping that some of them will walk in the footsteps of the famous garage entrepreneurs.
In parallel, we have described our inspiration and the entire thought process leading to founding the Start-up Garage in a book chapter, which is coming out in the first quarter of 2016.
Source: comdirect Start-up Garage – Rethinking Banking together