Purpose and impact are concepts that have accompanied me for a while now. They've helped me discovered my passions for negotiation – to help us make better joint decisions and for innovation – to shape a better future. They've guided me in search of the best use of my time and energy. Recently, I've realized that my focus list is incomplete and started digging deeper into sustainability and asked myself, whether it is possible to combine it with growth. Together with a team of smart, like-minded colleagues, we've been focusing on strategic aspects of sustainability and today, we would like to present an overview of the German climate tech startups, aka:
GERMAN CLIMATE TECH MAP 2022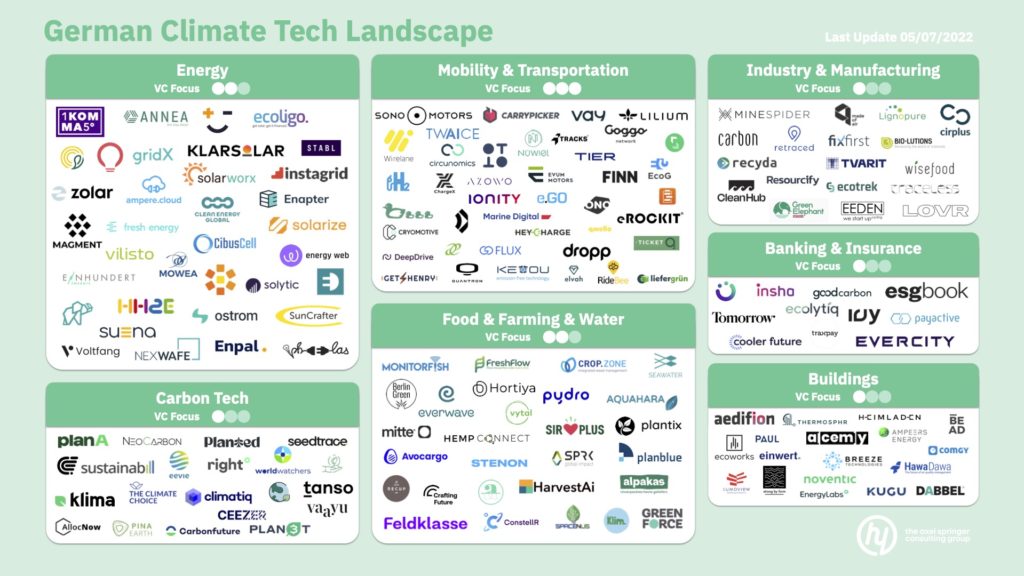 Climate Tech is currently the fastest growing vertical in Europe. In 2021 alone, European startups raised more than USD 11 billion in venture capital – an increase of more than 2.2 times compared to 2020 (Dealroom). Climate Tech includes business models and technologies that aim to reduce global greenhouse gas emissions and thus decarbonize the global economy, and covers the areas of buildings and mobility to food and farming. More and more climate tech startups are valued in the billions: more than 10% of the more than 50 climate tech unicorns worldwide come from Germany (including Enpal, TIER Mobility, Lilium, INFARM, Sunfire GmbH and Volocopter GmbH).
Together with my colleagues Pia Sander and Jil Zoé Fuhrmann, we've put together a climate tech map for Germany. A total of more than 170 companies that meet the following criteria have made it onto our German Climate Tech Map:
The company is active in the Climate Tech area in the areas of Banking & Insurance, Buildings, Carbon Tech, Energy, Food & Land & Water, Industry & Manufacturing or Mobility & Transportation.
The company's headquarters are in Germany.
The company was founded in 2015 or later.
The company has funding (equity/debt).
More than 25% of startups are in the mobility & transportation sector, closely followed by energy startups (20%). In the future we will probably see even more start-ups in the Carbon Tech sector – this group currently accounts for around 13%.
Here is the complete list with all German climate tech startups. Did we forget a startup? Then please leave a comment!