… so I became a professor. Who would have ever thought…  I often have to look back at picture below to remind myself that it was not a dream and did really happen.  On June 23, the Dean Prof. Dr. Andreas Pinkwart appointed me Honorary Professor for Negotiation at HHL Leipzig Graduate School of Management and it was one of the best days of my life.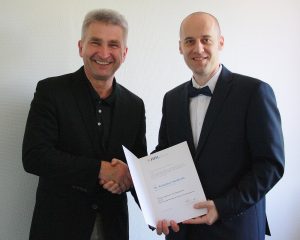 Photo credit: HHL
HHL Dean Prof. Dr. Andreas Pinkwart says, "With Dr. Smolinski, an internationally renowned expert from the field of negotiation has joined us at HHL. He sustainably contributes to the success of our innovate125 Future Concept."
Becoming a professor is kind of a big deal in Germany, where professor is not only a description of a function (someone who teaches at a university) but also a title that needs to be officially granted by an academic institution before it can used.  Interestingly enough, only academically appointed professors are allowed to carry the prefix prof. in front of their names.  Moreover, once granted, this prefix becomes a part of the name and can be carried also in official documents such as IDs, driver's licenses and passports.
Many thanks to all those who believed in me and supported me on the way!  My special thanks go in the first place to:  my beautiful and loving wife Anna who has always unconditionally supported my passions and patiently tolerated their consequences including frequent separations and late night research, to Jan and Hanna whose smiles always brighten my days and help me fight for a better future, to all my academic mentors (Peter, Arnis, Jes, Arshad and many many more) who showed me the true meaning of science, helped me discover my academic passion and taught how to inspire the curiosity of students, and finally, to all my students who patiently allowed me to share my passion with them.  One person, however, could not celebrate with us this great moment…  Mom, I know you would be very proud to witness this day and I am so sorry God decided otherwise…  We all miss you and hope to join you in heaven one day…
I would never become who I am without your love and unconditional support.  Thank you so much!  It would never be possible without you!