2016 is slowly coming to an end and it has been an amazing year!  I am very happy that our ideas and hard work on developing them into products have been noticed by the experts and peers from the financial industry.  This year we have received 4 innovation awards for the products we either initiated, developed or both.  Here is a brief recap of our this year's successful innovations:
Startup Garage was one of my first ideas at comdirect.  I described it briefly in one of my earlier posts.  Yesterday, on November 16, we were honored to receive:
the Innovation Award 2016 in the category business model granted us by bankenversicherungen.de during the 19th Euro Finance Week in Frankfurt.  We are very happy that our essentially very simple idea, was recognized by the senior academics and professionals from the jury.  We perceive it as a very valuable expert confirmation that our intuition was correct but our ambition does not let us slow down or stop.  We have lots of ideas how we could further develop our Startup-Garage and bring it to a completely new level.
Photos: (c) Jens Braune del Angel / Maleki Group
Bonus-Sparen is also one of the ideas from my early days at comdirect and I have already described briefly our interpretation of shopping for the retirement plan in one of my earlier posts. At the beginning of September, we received a Customer Innovation Award also know as Kunden-Innovationspreis 2016 also for Bonus-Sparen.  Since its launch in August, thousands comdirect customers have registered for Bonus-Sparen and many have made their first investments in securities, realizing that it is easier than they had thought.  Mission accomplished?  Definitely not!  It is only the beginning!  We have lots of ideas, how to make Bonus-Sparen even more intuitive, easy to use and bigger.  Some of them will go live even this year so stay tuned!

smartPay App – the idea for this product has been around at comdirect long before I joined in April 2015.  Interestingly enough, this project originally received a code name:  Kill Bill because its original objective was to help our customers pay their paper invoices by scanning them with a smartphone.  Later our product vision evolved further and we decided to include an archive to store and categorize important documents as well as other convenience features.  smartPay app has brought us two innovation awards.  First, in March, we won YouGov's Customer Innovation award also know as Kunden-Innovation 2016:
… and a half year later, we got the first international innovation award in comdirect's history and were awarded with Efma & accenture's silver Innovation Award 2016 in the category: Payment and Wallet: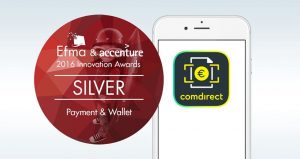 None of this would have been possible without passion and dedication of many involved colleagues who tirelessly worked on turning our ideas and visions into the products our customers would enjoy.  Thank you all!  You are the true innovation stars!
Despite having a very innovative year 2016, paraphrasing Steve Jobs, we stay foolish and hungry for more!