It has been 10 years since we organized The Negotiation Challenge for the first time.  Back then not even in our wildest dreams did we imagine how well it would develop and where it would take us.  It has been an amazing journey!
On April 1-2, world's greatest student negotiators met in Vienna and competed for the title of The Great Negotiator 2016.  16 teams from nearly all continents measured and compared their negotiation skills in an unofficial World Championship in Negotiation.
After 4 qualification rounds, we the final took place between American University Washington College of Law and…  we had a problem.  We had a tie for the second spot in the final between Reykjavik University and University of California, Hastings College of the Law.  According to our regulations, the second finalist had to be chosen randomly by a coin toss, and the coin chose…  the team representing UC Hastings.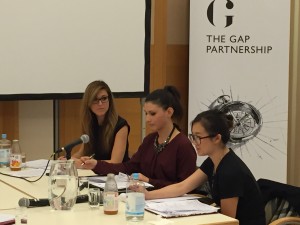 Whitney Geitz, Sara Fay Katz, and Danielle Ling Chang negotiating for UC Hastings.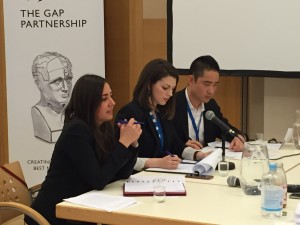 Laura daRosa, Colleen Wellington-Caban, and Jung Kim representing American University Washington College of Law.
The jury consisting of Prof. Dr. Sabine Köszegi, Steve Gates, CEO of The Gap Partnership, and Alexander von Reden, Partner at CMS decided that the title of  The Great Negotiators 2016 would go to American University Washington College of Law.  Congratulations to Laura, Colleen, and Jung!
The Negotiation Challenge 2016 was truly amazing and it would not have been possible without kind hospitality of our hosts Vienna Technical University with Prof. Dr. Sabine Köszegi and her team as well as Vienna University with with Prof. Dr. Rudolph Vetschera and his team.  We thank all our supporters and sponsors and look forward to meeting a new batch of world's best student negotiators in Bogota next year!
Source: TNC 2016 – TNC | The Negotiation Challenge | International Negotiation Competition